Do more than just rock the world… Join a Crew and emerge victorious over your rivals! This is Rivals Mode, and we're here to tell you all about it.
Rock Band Rivals - Rivals Mode Feature Revealed

Rivals Mode is your first real taste at the competitive side of Rock Band – score chasers can gain ranks in the leaderboards, but what does it really mean to be on top? You'll be creating a Crew with up to 10 of your closest bandmates and setting off to promote your team in a series of Weekly Challenges. Each week will bring forth a new challenge, ranging from prompts like, "All songs with 'love' in the title" to, "Tracks released in the '80s". You can gain Experience Points for any tracks that fall into these themes as long as the challenge is active. There will also be three specific Spotlight Songs that are included in the Weekly Challenge theme. The highest aggregate score across all instruments for these three songs can earn your Crew major points. Find your place above the rest by earning Crew promotions each week, where you can then laugh at the Rivals Crews who have fallen below you.

Rivals Mode introduces new terms to the Rock Band scene. Here's the lingo breakdown:
Rivals Hub: This is your go-to spot for the latest information about your Crew.
Weekly Challenges: These are timed events made up of two distinct gameplay elements – Weekly Challenge Songs and Spotlight Songs.
Weekly Challenge Songs: Songs noted with a "W" in your Song Library are eligible for the Weekly Challenge. Playing these songs will earn you Crew XP. Your Total Crew XP is then compared against every other Crew in your Tier.
Spotlight Songs: There are three songs each week that are designated as Spotlight Songs (noted with a spotlight symbol in your Song Library). You'll need to earn high scores on each instrument for these tracks.
Rivals Points: The average of your total Spotlight score percentile and total Crew XP percentile. Rivals Points is what determines your promotion/demotion into different Tiers.
Tiers: Tiers show you where your Crew is currently placed in the worldwide rankings. Depending on how you stack up relative to all the other Crews within your Tier on Total Crew XP and Total Spotlight Score, you will get promoted to a higher Tier, stay in your current Tier, or be demoted to a lower Tier.
Skill: The Skill stat quantifies how skilled you are on an instrument based on your best scores on every song you've played. The Skill stat ranges from 0 to 1000.
Experience Points (XP): You'll earn XP for every song you play in Rock Band. Your star performance and difficulty level determine the amount of XP you earn per song, and contribute to your Crew's total XP score.
Anatomy of a Rivals Crew

The best Rivals Crews are those that have a well-rounded team. You'll want to be sure to secure teammates that have high Skill in each instrument (10 guitarists won't work out well…trust us). Are you an Easy player, but want to contribute to your team's success? No problem! Even novice rockers can play a crucial role in their Crew by playing many songs within the Weekly Challenge Theme to rack up experience points. For Spotlight songs, Crews will want their best players to post a top score on each instrument for each of the three songs. Balanced crews featuring elite singers, guitarists, bassists and drummers will find they have the best advantage.
Promotion and Demotion

Like any rivalry, some will be victorious, and some…not so much. At the end of each Weekly Challenge, your Crew will be sized up among the rest of the Rivals Crews out there. If you had stellar performances in your Spotlight Songs, plus gained enough experience points to excel above the rest, your Crew will be promoted to the next Tier. If you weren't so hot this past week, or your scores didn't quite make the cut, expect to be demoted to a lower Tier. If your Crew did just fine, but not enough to earn bragging rights, you'll stay right where you are in your current Tier. All Crews will have a chance to advance to higher Tiers every week, so don't worry if one week isn't for you.
Tiers are a major factor in Rivals Mode – everyone who checks out your Rivals Crew can see what Tier your Crew is currently in. Every Crew will begin in the Bronze Tier, but with enough practice, dedication, and a bit of pep talk, your team can make it into the Silver, Gold, Platinum, and Diamond Tiers. If you really want to impress your friends, you'll want to go for that extremely sought after Bloodstone Tier, the highest possible Tier a Rivals Crew can be in. Now that's brutal.
Compare and Contrast

Rivals Mode will also let you size up the competition for yourself by checking out what fierceness you're fighting against. From the Rivals Hub, you'll be able to compare your Crew with others, seeing who has more gold, crimson, and total stars. The Weekly Challenge leaderboard will show your Crew's rank compared to others based on XP. You'll know exactly where you stand by comparing your Crew to others amongst your friends and from around the world.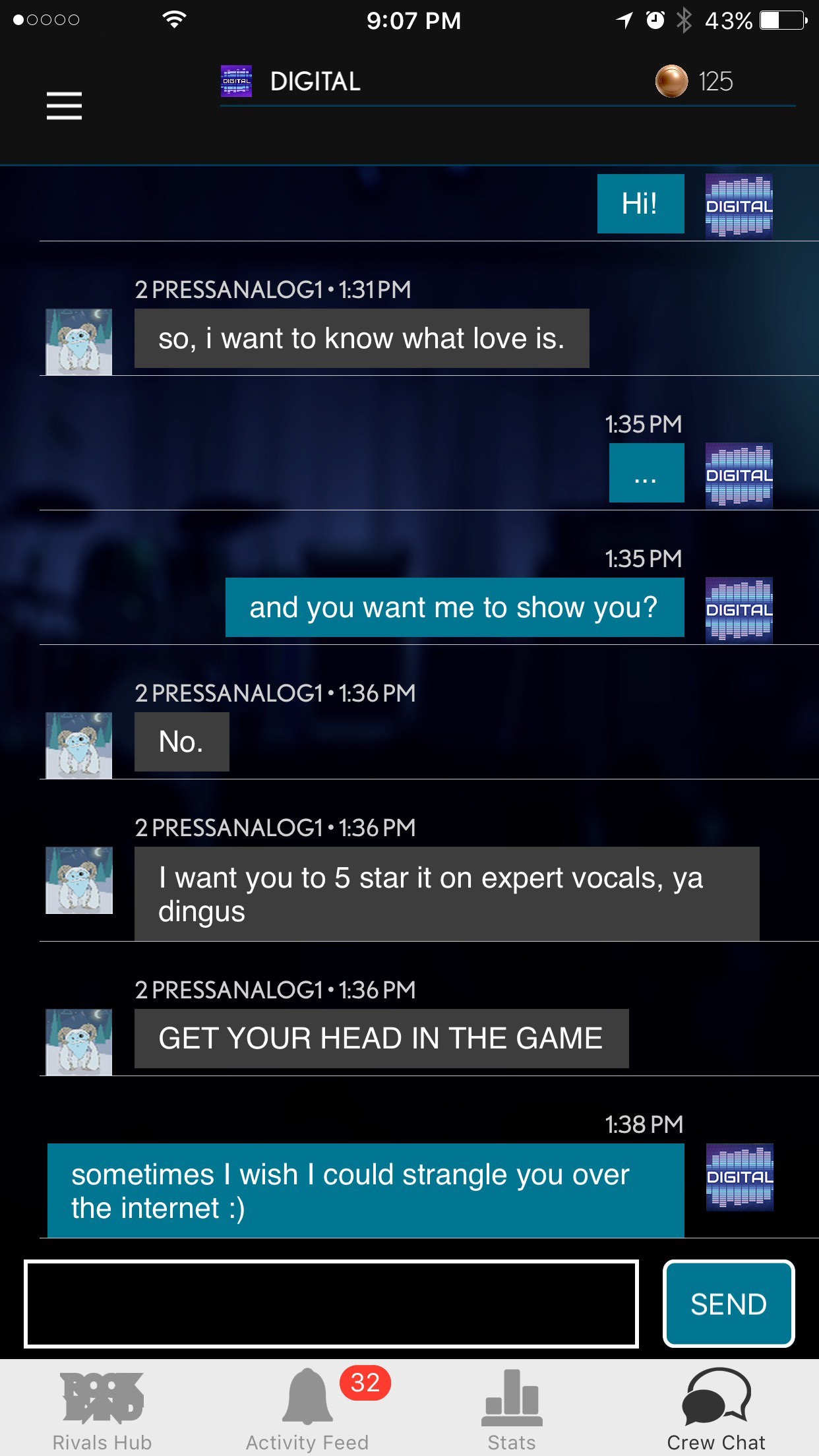 The Rock Band Rivals Companion App

For the first time, Rock Band will be getting a partner companion app for the launch of Rock Band Rivals. Available for free on iOS and Android this October, the Rock Band Companion App comes fully stocked with tons of information about your Rivals Crew, stats, and scores. Think of it as your personal Rivals Hub in your pocket; the app will mirror any and all information about your Rivals Crew right on your phone. Players can use this app to access details about Weekly Challenges, manage their Crew roster, message other members in their Crew and monitor their Crew's progress during challenges. It's a great opportunity to coordinate with your Crew no matter where you are in the world. Those interested in checking out the competition can also view their Player Profile and compare it to any other Rock Band Rivals player in the world. We'll have more details about this companion app soon!
Get out there and rock!

What's the best way to succeed at Rivals Mode? The answer is simple: keep on playing Rock Band 4. Every score you contribute to your Crew is another step in the right direction. Rivals Mode is only available with the Rock Band Rivals expansion to Rock Band 4. If you haven't picked up your pre-order of Rock Band Rivals yet, take a look at this handy infographic to determine what's right for you – there's even 10 pre-order bonus tracks in it for you when you pre-order any version of Rock Band Rivals!

You can catch the latest updates to Rock Band 4 and Rock Band Rivals on our Facebook, Twitter, and Instagram pages. We'll be showing off Rivals Mode for the first time at PAX West this weekend, so come rock out with us at Booth #1713 (maybe even win a Fender® Jaguar® guitar, too!) and be sure to bring your competitive spirit.